Customers who rank in the top quartile of industrial plants view reliability as a strategic component of their overall business strategy.
They incorporate plant, process, and asset performance metrics to produce data-driven results such as reductions in unplanned downtime, increased availability, reduced MRO inventory, energy savings, and improved equipment effectiveness.
After supporting multiple industries over the past twenty years, we identified seven common traits among plants that excel at reliability.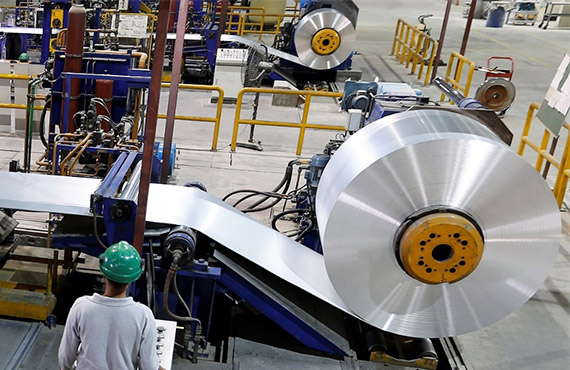 7. The Plant is Clean
Plants that are top performers are clean all of the time, and the tasks required to keep the plant clean are routine business. 
In her May 18, 2020, Manufacturing Tomorrow article, "How to Keep your Manufacturing Plant Clean," Megan Rae Nichols states,
Keeping workspaces and facilities clean and neatly ordered is one of the most important steps for manufacturers. Doing so helps workers stay safe, keeps essential parts and tools where they can be easily found, and improves overall productivity.
6. Management of Change is in Place
Reliable plants understand that without current drawings, manuals, and information, mistakes will be made in operating, maintaining, and troubleshooting.
Ron Moore, in his book, Making Common Sense Common Practice: Models for Operational Excellence, suggests the following steps to managing change (Moore, 471):
Articulate a compelling reason for change
Apply leadership and management principles
Communicate clearly your strategy for achieving the change and goals desired
Facilitate employee engagement in developing and implementing the change process
Measure results, reinforce good behavior; challenge bad behavior
Stabilize the organization in the new order with policies, standards, and procedures
Go to the first step – change is a continuing process
5. Reliability is Measured
Plants that understand reliability measure OEE/TEEP (Overall Equipment Effectiveness/Total Effective Equipment Performance) on their critical assets and actively seek to improve and stabilize reliability using proven tools and methods. 
Ramesh Gulati, in his book Maintenance and Reliability Best Practices, posits that incorporating OEE and TEEP as part of a total productive maintenance initiative yields the following benefits (Gulati, 286):
Safer workplace
Employee empowerment and improved morale
Increased production/output
No or minimum defects
No or minimum breakdowns
No or fewer short stoppages
Decreased waste, operations and maintenance (O&M) costs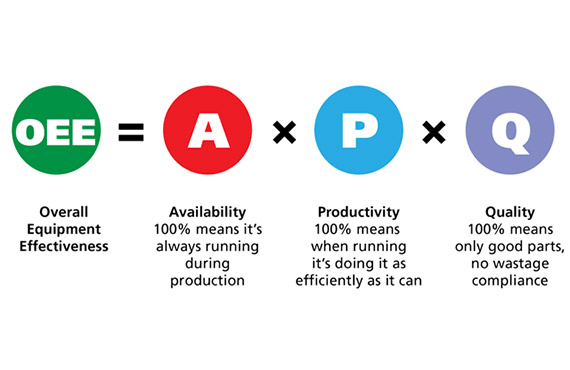 4. Standard Operation Procedures (SOPs) Are in Place and Followed
Plants that fail to have standard operating procedures (SOPs) use every excuse in the book to explain why they are not needed or essential. When they are done giving excuses, we ask them if they would ever fly an airline that felt the same way.
In her ReliabilityWeb.com article, "Avoid DOWNTIME: Write Standard Operating Procedures," Caroline Eisner suggests,
Writing and revising company SOPs eliminate downtime. SOPs also improve processes by removing redundancies and should manage how a company performs repetitive tasks to achieve desired outcomes and financial goals.SOPs avoid process shutdowns caused by equipment failure, missed PM schedules, and lost work orders.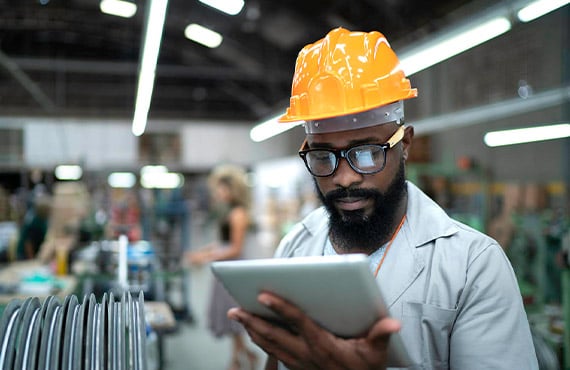 3. Maintenance is Planned/Scheduled and Performed
Top performers plan, schedule, and complete better than ninety percent (90%) of their maintenance work throughout the year. They may still have unplanned emergency outages occasionally, but those outages represent less than ten percent (10%) of their workload.
In his September 10, 2018, Plant Services article, "
3 Maintenance Planning Tools to Stop Firefighting
," David Berger reinforces the idea that a plan with outlined savings and returns is necessary for acquiring management buy-in and shifting culture.
Just how easy it is to move to a more-planned environment will depend on how big your fire trucks are. If most of your maintenance work is unplanned, then a major cultural and strategic shift will be necessary for operations, marketing, and maintenance. Without top management support, the probability of making any significant progress in changing the culture is very near zero. The best way to convince senior management that a cultural shift for asset management is needed is to present a plan with operations that outlines savings for a given level of investment.
2. Predictive Maintenance (PDM) Technology is Aggressively Implemented
Predictive maintenance (PDM) or condition-based maintenance (CBM) represents forty percent (40%) or more of the top performer's workload.
A July 22, 2021, McKinsey Institute article, "Prediction at Scale: How Industry Can Get More Value out of Maintenance," suggests that several things stand in the way of a successful large-scale PdM program.  Most companies face issues in one or more of the following broad categories:
Data is insufficient, inaccessible, or of low quality
Technology is inadequate, with too few sensors or poor IT infrastructure
Prioritization is difficult, as companies lack a clear view of which assets to include in their PdM programs
Capabilities are missing, especially the skilled data engineers and data scientists required to build advanced analytical models
Change management is weak, often because of user-unfriendly design
Economic return is low due to the high cost of developing models to cover diverse assets and numerous potential failure modes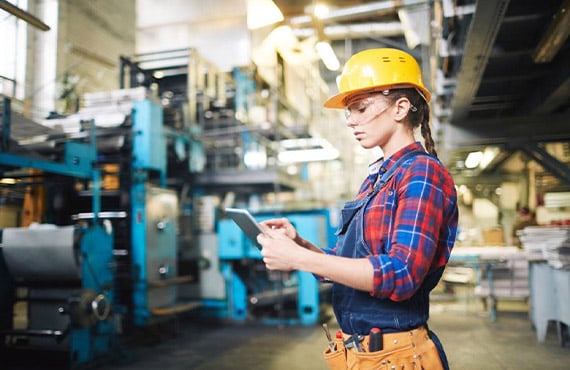 For customers challenged by implementing a plant-wide PDM program, Cornerstone helps customers:  1) assess their current environment, 2) realign their data collection and management strategy, 3) establish a skills matrix and staff development program, 4) identify gaps, 5) connect with the right solution partners, and 6) prioritize and cost-justify programs and solutions that have near and long-term impact..
1. Maintenance Craftspeople Have Been Trained in Precision Maintenance Techniques
Top performers understand that the best-designed equipment in the world can be ruined if we do not take the time and effort to ensure it is precision aligned, balanced, and torqued. Top performers allow their people the time to do things right.
Cornerstone offers staff development programs via education/training/certification courses that are instructor-led on-site or offsite. The image below is a sample training roadmap: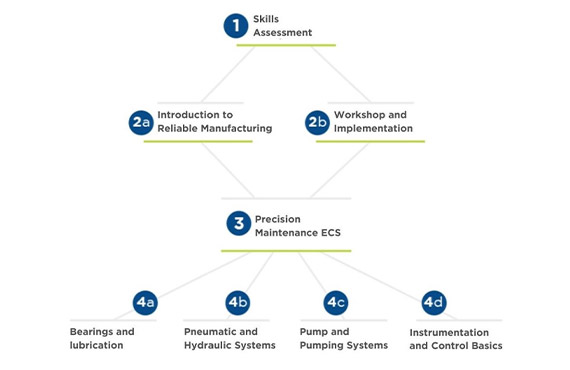 Use Reliability as a Business Strategy to Drive Top Quartile Results
To help customers achieve top quartile performance through reliability initiatives, Cornerstone focuses on a data-driven strategy to achieve results:
We assess your present state and apply KPIs that align with the plant's financial goals
We combine plant, process, and asset performance metrics with IT/OT data
We coalesce reliability goals, master data, and maintenance practices into a holistic plan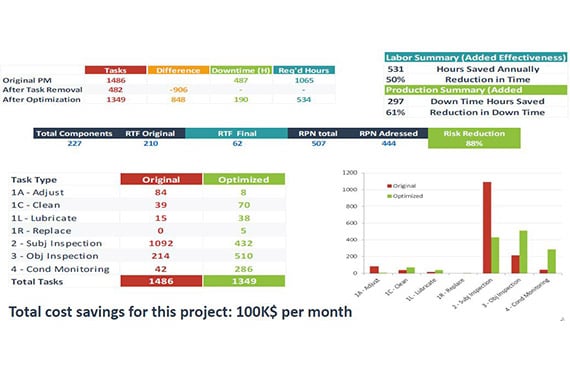 Cornerstone strengthens our customers' reliability organizations through training and education programs, partnering on initiatives and projects, or serving as an outsourced resource.  We coalesce our customers' reliability initiatives, master data, and maintenance practices into a comprehensive business strategy that delivers measurable results.
Cornerstone relies on a vendor-agnostic consultative approach, using the software, tools, and assets your organization has already purchased. We offer a holistic, one-stop-shop portfolio for reliability services, products, and education.  Our team includes 150+ certified and experienced reliability professionals and a strong North American network of partners and solution providers.
For more information, contact Jamie Flerlage at jamie.flerlage@cornerstonecontrols.com.