With the recent advancements in sensor technologies and software capabilities, it has never been easier or more cost-effective to use operational data to make a quantitative economic impact for industrial operations.
With the recent advancements in sensor technologies and software capabilities, it has never been easier or more cost-effective to use operational data to make a quantitative economic impact for industrial operations. Customers can utilize these digital solutions to increase production efficiency, optimize energy consumption, forecast asset failures before they happen, and many other applications.
The difficulty for some is finding a place to start in determining if a data-driven, digital transformation solution can impact a manufacturer's bottom line. An Impact quadrant offers customers a simple, visual, data-driven method. Customers can use this approach to identify problems that have a measurable impact on plant performance, envision the solution without vendor or brand bias, and measure the results against the intended outcome. This article uses a
compressor example
to show how to apply impact quadrants to situations that can benefit from digital transformation solutions.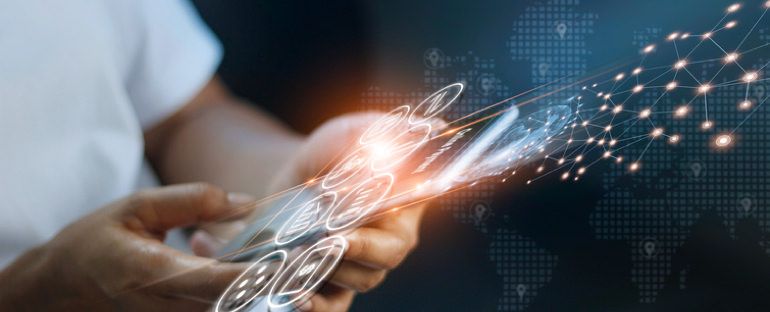 Why Use an Impact Quadrant for a Digital Transformation Initiative?
Impact quadrants are helpful because they help stakeholders uncover the root cause of a problem and draw a straight line to its financial impact. The method is also beneficial for building a solution vision around business and user experience requirements without vendor preference or interference. The final block of the quadrant drives customers to define the desired outcomes alongside measurable results.
Impact quadrants also help customers avoid the following risks:
Identifying the right problem but solving it in the wrong way 
Overspending on hardware or software to support the solution
Purchasing a solution that addresses only parts of the problem
Creating a solution that users complain about or avoid using
Implementing a solution that does not achieve the desired result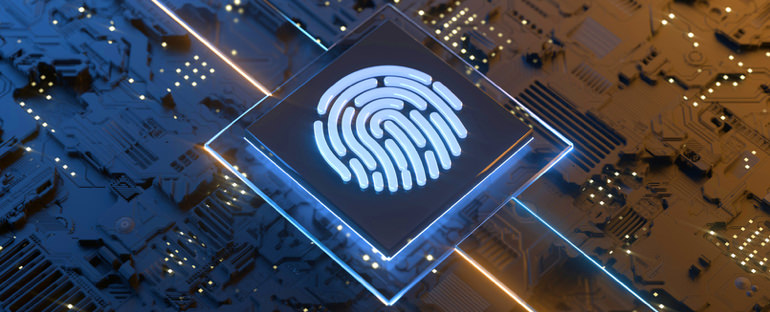 What is an Impact Quadrant?
An impact quadrant is a business tool used to organize conversations and information. Stakeholders identify specific problems, correlate their financial impact, start the solution visioning process, and define desired outcomes. An impact quadrant contains four components:


Problem – uncover and articulate the problem(s) you are trying to solve.


Impact – measure the financial or qualitative implications of the problem.
Vision – compile a wish list of what users and management would want in a solution.


Outcome – define success metrics and desired results.
Effective impact quadrants are simple, straightforward, and ask focused questions. Figure 1 is an example of an impact quadrant with one sample question in each box.
Figure 1 – Impact Quadrant: Structure & Questions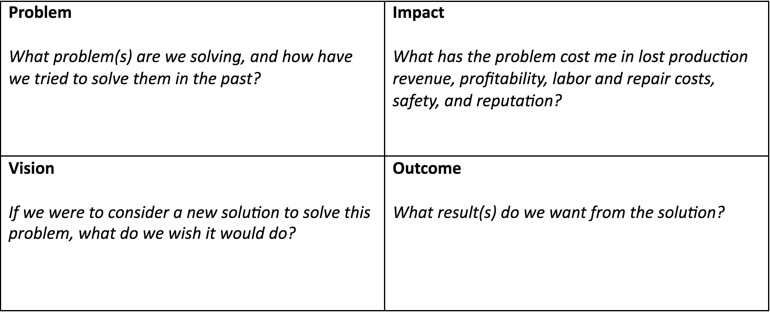 How to Use an Impact Quadrant
Draw a large + (plus) sign on a whiteboard and caption each quadrant as you see in the above example. Pass out any documentation you may need to support the discussion and set time limits. To cover all four areas, allow yourself a minimum of two hours, or thirty minutes per quadrant.
Below is a high-level summary of what to cover in each block:  
Problem
Your goal is to capture specific problems and any attempts to solve them. You will know you've captured/defined the problem correctly if you can tie an adverse financial or qualitative impact to the problem (i.e., downtime or safety risks).
Impact
Capture the types of data and tasks you will need to perform to quantify the economic impact of the problem. More importantly, decide upfront if the economic impact is significant enough that you're willing to spend money to solve the problem. 
Vision
Establish a wish list for a near-perfect solution; using plain language, define what you want the solution to do and how you want users to interact with it. Do not center your discussions around specific products, services, or vendors. Vendor evaluations come later in the process.
Outcome
Define the economic and qualitative benefits you want to derive from implementing the solution and articulate how the solution will make a financial impact.
Example: Applying an Impact Quadrant to a Compressor
A plant maintains several compressors as part of a mission-critical process. Two of those assets are centrifugal compressors that impact 100% of the operation. If one goes down, the plant incurs labor costs and production losses. The maintenance and reliability team uses a route-based program to capture asset health data periodically to help ensure compressor availability. The compressors are failing between data collection periods, with downtime eroding operational revenue and profitability. In this example, we can apply an impact quadrant to identify the problem, impact, solution, and outcome.
Figure 2 – Impact Quadrant: Centrifugal Compressor Downtime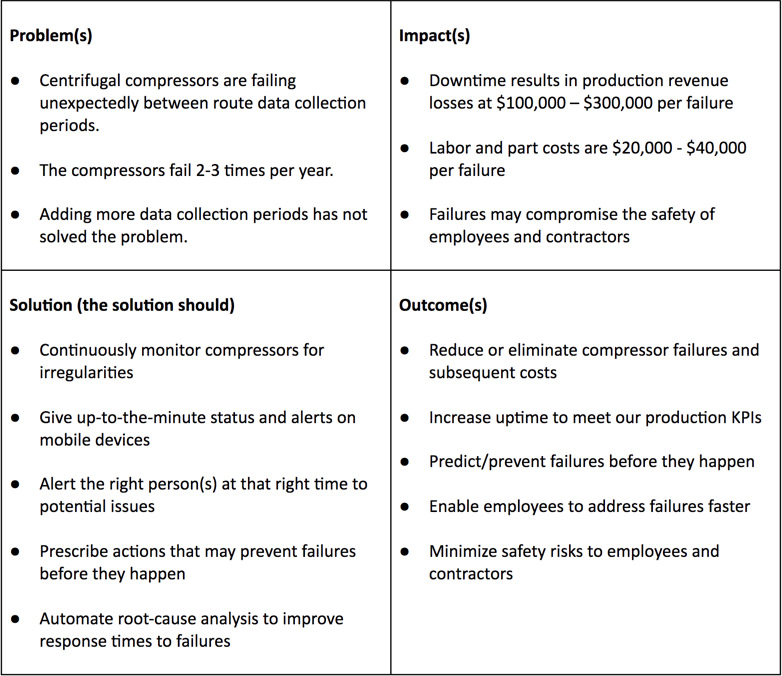 Start Solving Problems Today
In the above example, the customer identifies the problems with their compressor assets and can measure the impact of those problems. The customer then outlines their solution requirements without latching on to vendors, brands, or specific products. Finally, the customer defines what "done" looks like by detailing the outcomes ahead of solution enablement.
If you are dealing with a digital transformation initiative or project that could benefit from applying the impact quadrant method. Cornerstone can help facilitate an informal, virtual or in-person workshop with your team. To learn more, please contact me at
jamie.flerlage@cornerstonecontrols.com